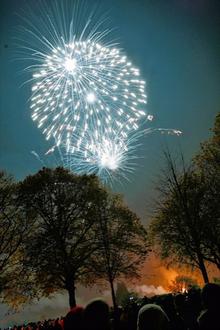 Thousands of people are set to enjoy Medway's annual bonfire and fireworks display on Saturday night.
As many as 50,000 people turned out last year to see things go off with a bang at the Great Lines Heritage Park, in Gillingham.
There will be fun for all the family at the free spectacular, which starts with Medway mayor Cllr Ted Baker lighting the giant bonfire, built by volunteers from the Royal Engineers, at 7pm.
A stunning fireworks display lights up the skies from 7.30pm before the event is expected to finish at about 8pm.
Cllr Howard Doe, Medway Council's portfolio holder for community services, said: "The Great Lines fireworks display allows people to have not just a fun evening but also a safe one - and it's also free.
"And once again the Royal Engineers have kindly volunteered to build the big bonfire for us, so we thank them very much for their continued support."
Visitors are asked not to bring their own fireworks, sparklers or pets. Refreshments will be on sale throughout the evening.
For more details, phone 01634 338141 or visit www.whatsonmedway.co.uk.