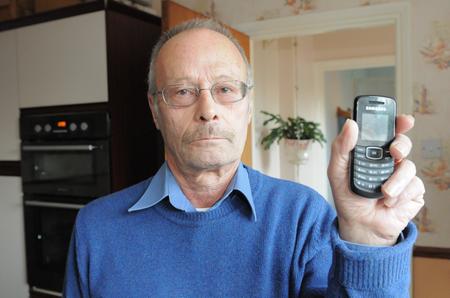 Keith Bryan's numbers were stored on another customer's mobile phone
by Lynn Cox
Tesco has apologised to a Medway man after admitting it sold a mobile phone with his contact details on it to someone else.
Keith Bryan was astounded when he got a call from strangers to say they found his details on a phone they bought from Tesco Extra, in Gillingham.
The 67-year-old met the couple, who had bought the Samsung mobile for their son, and returned to the store to find out how it had happened.
Keith, of Twydall Lane, has a contract phone with Tesco/02 mobile - but has never owned a Samsung.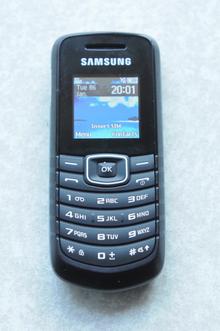 The couple who bought the phone (pictured right) were able to get in touch with Keith after going through the contacts and finding one for 'home', which was his house in Gillingham.
It had been bought in a sealed box, sold as brand new.
Keith, who also stored pin numbers for his bank cards on the phone, complained to Tesco.
The supermarket giant sent a courier to pick up the phone, which had been returned to Keith by the store manager, and investigated the matter.
It turned out that staff at the store had used it to transfer his contact details from his old mobile with another network, when he took out a contract with Tesco/02 mobile, but had resold it as new without deleting his details.
Keith said: "It was quite worrying, it's fortunate these people were honest.
"I got my contract with them in May last year, and I honestly can't remember how they transferred the details.
"But still, it is quite worrying that they sold the mobile as new in a sealed box after it had been used."
Keith has now been assured his details have been deleted from the phone and all the data on it cleared.
The company also confirmed to him that staff who work at Tesco's phoneshops will be given refresher training on Data Protection, which will remind them that security measures should be in place.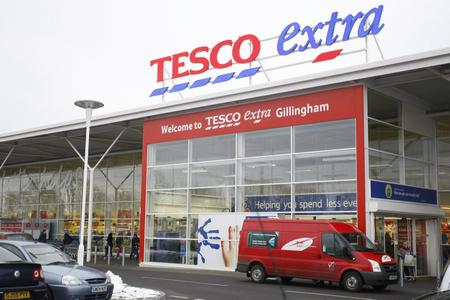 Keith added: "I'm happy my details have now been removed from the phone and that steps are in place to prevent it happening to anyone else."
A Tesco spokesman said: "Our investigation showed the handset in question has been used to transfer Mr Bryan's contact information onto his new mobile.
"This is because it was an unlocked handset rather than locked to a network. Unfortunately, that handset was then mistakenly sold by the store.
"We have been in touch with Mr Bryan to apologise for this error and have assured him that his information has not been sent elsewhere.
"As a gesture of goodwill, we have provided him with a £100 money card for his inconvenience."
Has this ever happened to you? Let us know by leaving a comment below.