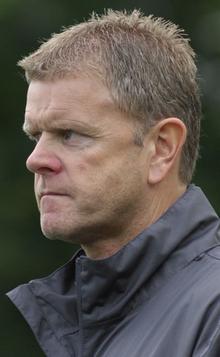 By Andrew Gidley
Manager Tommy Warrilow's decision to recall striker Mikel Suarez against AFC Hornchurch proved the right one.
Tonbridge gained their first Blue Square Bet South win in five games by beating the Essex side 1-0 on Tuesday night thanks to Chris Piper's first-half penalty.
Angels boss Warrilow watched Suarez when he scored on-loan for Hastings against Lowestoft last Saturday. He decided to name him against Hornchurch for his first start since suffering a serious head injury at Farnborough in October.
Mark Lovell also started with top scorer Frannie Collin and George Purcell on the bench.
Warrilow (pictured) said: "I decided to do it immediately after the 3-0 defeat at Bath. I spoke to Mikel and Sean Ray (Hastings manager) on Sunday and without being sentimental, he came in and did brilliantly. He was our best player and my man-of-the-match.
"I needed to change things dramatically because I was getting fed up saying the same things in the dressing room and I don't want players thinking the pegs are their own."
The victory lifted Tonbridge two places to 13th, two points behind Dorchester who visit Longmead on Saturday.
Midfielder Tom Davis missed the Hornchurch game, after suffering a broken hand at Bath. Henry Muggeridge is available after a head injury but Warrilow has to check on Danny Walder's ankle injury.