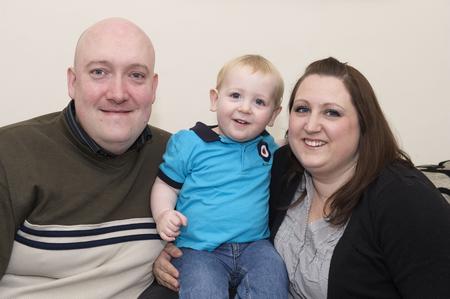 Tot Tommy Days has returned to the ward at Medway Maritime Hospital, where he was kept alive on oxygen for months, to say a big thank you to staff.
Tommy, aged 21 months, helped to hand over a cheque for £300 to buy new toys for Dolphin ward.
The little boy was born with a rare malfunction, which meant his lungs stopped working properly as soon as he fell asleep.
Tommy would struggle to breathe without sufficient oxygen and his heartbeat had to be constantly monitored.
When his condition deteriorated he was transferred to the Evelina children's hospital at St Thomas', London, in December, where he had his tonsils and adenoids removed.
The operation was a success and a week later, on Christmas Day, Tommy was allowed to be with his parents Maxine, 32, and Paul Days, 33, at the family home in Ash Tree Lane, Chatham.
Granddad Colin Bicker, a Freemason, asked his colleagues at the Wigmore Durobrivae Lodge if they would consider donating the proceeds of their Christmas raffle to the children's ward.
Mr Bicker, 59, of Hunters Way, Gillingham, said the family were "eternally grateful" for the support and care Tommy received.
He said: "I put the idea to my lodge and they jumped at the chance as Freemasons provide so much support to the Medway community – especially those less fortunate in life."
Maxine said: "It was a scary time for us but whenever I got a bit tearful the staff were there for me and the children."
The cheque was presented to hospital play leader Annie Huxtable, who said: "We cannot thank the lodge enough for this kind donation. The money will go towards equipment and toys for the children's ward."