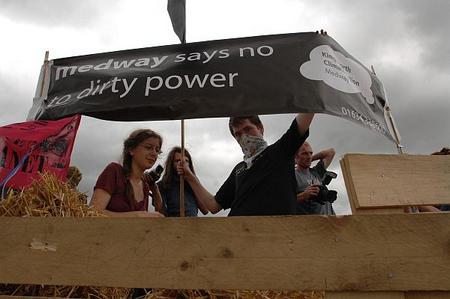 by Jenni Horn
Two children who were stopped and searched at last year's Climate Camp in Hoo, have won the right to take Kent Police to the High Court.
The 11-year-old twins, who cannot be named, and Dave Morris, who also attended the camp last August, have secured the right for a full judicial review hearing, to look at whether the grounds for the searches they underwent when trying to enter the camp, were unlawful.
The basis for this argument is that the police officers searching Dave Morris and the twins did not have reasonable grounds to suspect them individually as required by law, but instead systematically, repeatedly and unlawfully searched everyone attending the Camp.
The judges presiding over the initial hearing on Wednesday, ruled in the protestors favour for a full hearing.
The judicial review is likely to begin in the autumn.
David Bainsworth, from the Climate Camp legal team said: "In securing a judicial review Climate Camp has ensured the police will be held accountable for their bullyboy stop and search tactics.
"The relentless and systematic nature of the searches at Kingsnorth can only be explained by a desire to intimidate and deter people from visiting the Climate Camp. We are adamant that intimidation tactics won't deter us and we demonstrated that not just at the camp itself but also in court today."
Kent Police have faced heavy criticism over their policing of the camp, which was set up to protest over plans for a new coal-fired power station at Kingsnorth. Officers were involved from 26 forces around the UK, costing £5.9 million.
A review of the policing of last year's protest is being carried out by the National Policing Improvement Agency (NPIA). Kent Police have refused to comment until after the judicial review.