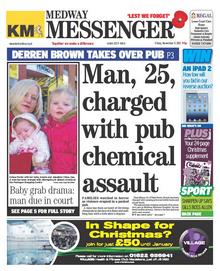 Christmas is just around the corner – and in today's Medway Messenger we have a 24-page Christmas supplement with your guide to everything festive in the Towns, plus lots of gift ideas and the chance to win a hamper packed with the perfect Christmas Day lunch.
In news, a pub has been transformed for a TV stunt by hypnotist Derren Brown and top chef Heston Blumenthal amazed onlookers when he set light to a giant Christmas pudding in Chatham.
We've got the latest on the chemical attack in a packed pub, which left a man in intensive care, and a mum speaks out after a man is accused of attempting to abduct her 10-week-old baby.
We've got a three-page special report ahead of Remembrance Day on Sunday plus everything you need to know about the candidates for the Police Commissioner election.
In sport, Gills boss Martin Allen says his team must sharpen up in attack as they head to Plymouth tomorrow and we've got all the action from the Medway Messenger Youth League.