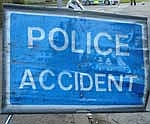 A section of the busy Maidstone Road, Rochester, was closed for several hours this evening after a two car accident.
The woman in a VW Polo had to cut free after the collision with a Vauxhall Corsa and was taken to hospital with suspected spinal and leg injuries.
Police cordoned off the stretch between Valley View Road and Breton Road for the vehicles to be recovered.
The driver of the other car was not thought to be injured.
The crash happened at about 5.30pm near the Math School.