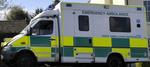 A woman was injured after a shop sign blew down in high winds in Gillingham town centre.
The 46-year-old was walking along the High Street at about 7pm on Thursday when the 12ft by 10ft board from Perry and Partners estate agents came crashing to the ground.
Paramedics treated her at the scene and police attended.
The woman was taken to Medway Maritime Hospital. Her condition is not known.
Sue Bedford, a partner at the estate agents, said:"I understand she is OK which was obviously our first concern when the police arrived."
Do you know the injured woman? Call the newsroom on 01634 227803 or email medwaymessenger@thekmgroup.co.uk