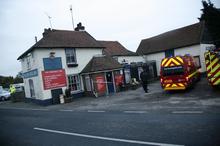 The investigation into what caused an explosion that ripped through a Medway pub, injuring four members of a family is continuing - six weeks on.
Medway Council health and safety officers were called into to investigate the blasts at the Fenn Bell Inn at St Mary Hoo.
The popular pub on the Ratcliffe Highway remains closed and will not re-open before Christmas. At the time, it had been packed with Sunday lunchtime drinkers and diners including two boys, believed to be aged five and nine and their parents.
The young family bore the brunt of the explosion which may have been caused by a faulty boiler behind a wood-burning fire in the main bar.
They were treated by paramedics at the scene befoire being airlifted to King's College Hospital in London.
Kent Police and Kent Fire and Rescue Service were initially drafted to find out what happened.
A council spokesman was unable to say what line the inquiry was taking or how long it would last.