A young woman who has been bedridden for six years since being struck down with the chronic fatigue illness ME has raised £1,000 – just by having her hair cut.
Jessica Taylor, 21, had her locks shorn to make money for her Share a Star project which aims to brighten the lives of sick young people.
Jessica launched her charity after spending years in hospital with the debilitating condition.
She said: "I was admitted to hospital when I was too weak and all around me there were children and young people fighting for their lives.

"I just thought there was not enough sparkle, so I wanted to make it happen.
Jessica added: "The star symbolises the sparkle of hope."
When Jessica returned to the family home in Cliffe Woods she started to work on finding the £5,000 needed to register the charity.
She said: "Everyone in the community has been very supportive doing sponsored runs and other things that I am not strong enough physically to do.
"I desperately wanted to have my input, so I had the idea of having my hair cut."
Jessica has had her hair long since she was 13,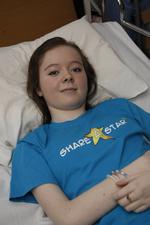 although she suffered some loss through medication.
She said: "In all I had 50 cms off. It felt very strange at first, but now I'm used to it.
"The amount of cash it has raised has exceeded my expectations and I can't thank everyone enough.
Jessica became ill when she was 14. Until then, she had been healthy, fit and an academically promising pupil at Rochester Grammar School.
She said: "I was captain of the netball team and has been predicted A grades. I had plans to go to university to study English. I wanted to be a writer."
But by the time she was 15 Jessica was too ill to attend school and her mum Kate cared for at their home in Woodside Green.
Unable to leave her bedroom, she has released a video named The World of One Room.
She made it originally for her dad Colin but has had 11,600 views to date.
Go to www.shareastar.org to find out more.