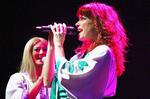 Get your week off to a flying start with your bright Monday Medway Messenger - out in the shops now.
Medway council is putting up your bills but making big cuts - find out why with our budget report.
There's great news for a local boxing club with a £50,000 grant to secure its future. And ever thought about what it would be like to live your life completely on the internet. Our man Andy Gray gives it a go.
There's your essential guide to what's happening in Medway, including a big night for Abba fans, plus TV highlights and much more.
Gills are sitting pretty at the top of League Two after their record-breaking 11th away win of the season. We've got full reports, pictures and reaction.
Your Monday Messenger is a great way to start the week. Get your copy now.