A businessman who has forked out more than £1,500 in parking tickets says he is so fed up he is considering closing his shop.
Terry Ronayne has run Halfway Glass in Queenborough Road for three years and in that time estimates he has been slapped with around 50 penalty notices at £35 a go.
He accused Swale council of running a parking for profit scheme after it was revealed in the Times Guardian earlier this month it raked in more than £500,000 in fines from November 2011 to October 2012.
Although the 50-year-old knows he shouldn't park outside his business in Halfway, he says he only stops there to load his van and says he can't walk far with the panes of glass.
However, Swale council said its contractors are doing their job.
Mr Ronayne's nearest car park would be the one next to the Conservative Hall, in Minster Road, which he says is quite a walk while carrying sheets of glass.
He was given three tickets in a week and has also been approached by parking wardens while out doing emergency call-out jobs.
Mr Ronayne, of Harps Avenue, Minster, has applied to the council in the past to allow him to stop outside his shop, where he employs three staff, but his request was refused.
"I'm seriously thinking about closing the business down and getting out of it because I have had enough," he said.
"I go out to work all day long but I have to load up – how can I be expected to walk to the nearest place carrying sheets of glass?
"It's ridiculous and I'm frustrated.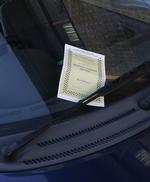 "I'm a businessman trying to earn a living – I'm not using it as a car park, I'm only there while I load up.
"There's no waiting or discretion – it's parking for profit."
The Times Guardian put in a Freedom of Information request to the council which revealed the number of tickets issued to motorists has rocketed since the service was contracted out to Apcoa Parking Ltd in November 2011.
A spokesman for Swale council said vehicles are allowed to stop for short periods on double yellow lines to undertake loading and unloading, however the Highway Code states parking is not allowed opposite or within 10 metres of a junction.
"Civil enforcement officers will observe vehicles to ensure that loading or unloading is evident," the spokesman added.
"Double yellow lines and other important safety measures are in place in the Halfway area due to heavy traffic flow, significant traffic management systems, considerations for residents and safety implications for all, including local schools in the area.
"Anyone who receives a parking fine has the option to appeal."