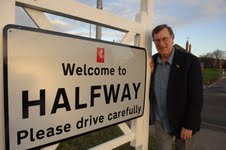 A councillor is hoping a new sign will help an area to establish its own identity.
A Welcome to Halfway message will greet motorists driving along Queenborough Road from the traffic lights at Queenborough Corner.
The notice was paid for out of the Kent Highways fund of Kent County councillor Ken Pugh and cost an estimated £2,500.
Cllr Pugh said: "We asked the Halfway Residents' Association what they wanted and they were saying to me they had no identity and I was trying to suggest that they become a parish."
Halfway is not classed as a village or town, but is so-called because the area is said to be half-way between Minster, Queenborough and Sheerness.
After some discussions about how it would become a parish, the group was asked if they would like a sign.
Cllr Pugh, also a Swale councillor, added: "They said yes, that is what they would like. Something like six months ago I put application in to Kent County Council (KCC)."
There was a slight delay due to a disagreement about where the sign should be erected.
KCC suggested it went in before The Aviator pub, but residents eventually got what they wanted and it was set up just after the BP garage.