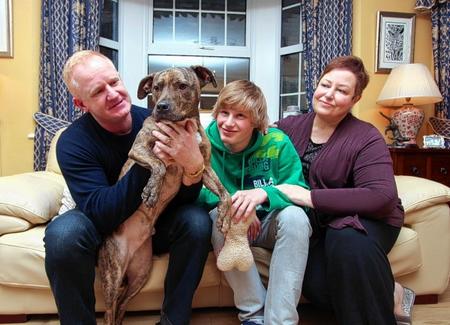 A pooch who was Battersea's longest serving resident has been rehomed on Sheppey.
Staffordshire bull terrier cross Fenton had spent a record 401 days under the care of the famous dogs' and cats' home in Berkshire.
Jim and Veronica McKnight, from Halfway, decided to adopt the two-year-old hound after losing their pet Hamish suddenly to a tumour last month.
Fenton was found wandering the streets in Addlestone, Surrey, and was brought into the charity as a stray, like 55% of the 1,300 dogs Battersea cares for each year.
The animal's 57-week stay there is almost 10 times longer than the average stay of a dog, which is 45 days.
To have a break from kennel life, the dog had spent time in a foster home.
Fifty-year-old Mr McKnight, who is a prison officer at HMP Standford Hill in Eastchurch, said: "It left such a huge hole when Hamish was put to sleep so the only thing that cheered us up was to start looking for dogs.
"Our first dog, Fergus, was from Battersea.
"We looked online because we knew if we went there we would fall in love with the first one we saw.
"We narrowed it down to three dogs and arranged to visit them and when we arrived there was a poster about [Fenton] in the window and he was already there, earlier than he was meant to be."
The McKnights decided he was the one and said they couldn't be happier.
Fenton is settling into Island life well with the couple and their 17-year-old son James and he has a name new to boot.
They are continuing the Scottish theme and have called him Munro, as Mr McKnight is originally from near Glasgow.
"He's everything we were looking for in a dog. He's got the most fantastic nature and is a big softie," he added.
"All he wants is a cuddle all the time and he's part of the family already. We're thrilled."
---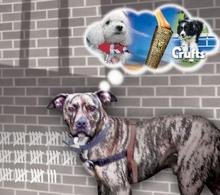 Senior rehomer at Battersea, Vicky Snook, said Fenton broke hearts of the staff and volunteers as the struggle to find a home continued.
"We were surprised Fenton was at Battersea for this long," she said.
"He's such a lovely dog with an affectionate and fun personality, we found it tough when the weeks went by and he had no home to go to.
"Luckily he had some fantastic foster carers to look after him and stop him from being stressed in the kennels.
"Because we have so many Staffordshire bull terriers, these breeds are often overlooked.
"For some reason poor Fenton didn't stand out in the crowd. We are just so pleased he has found a home."