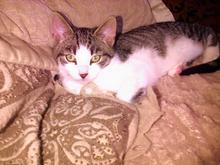 A cat is feline fine despite using one of its nine lives getting stuck between a shed and a fence.
Benny spent the night wedged in a 150mm gap in the back garden of his home in Halfway Road, Halfway.
The kitten left through the backdoor at 10.30pm and when he failed to return, his worried owner slept in the front room waiting for him.
Charlotte Hickey said: "The first thing you think is he's been run over."
When she went outside to look the following morning, she found him trapped.
After fence panels were removed to no avail, and worried the 20-week-old had broken his legs, she called Kent Fire and Rescue Service.
Luckily a cat-astrophe was averted when a crew from Sheppey arrived at around 7.45am and managed to persuade Benny out using a plank of wood with "the gentlest persuasion".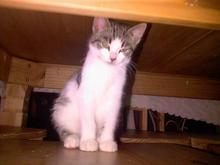 He promptly ran inside the house and curled up behind the sofa, under a warm radiator.
Animal lover Charlotte, who has looked after cats all her life, said: "He's very, very lovely but obviously he's a kitten so he's 100mph, even the dog runs away from him.
"When we got him he was very nervous but he's always been a sunny character.
"I'm grateful to the firefighters, they were so calming. I was really panicking.
"Not only do they do their job but they have people skills as well.
"I just want to thank them for their reassurance and how quickly they were here.
"They said he was in shock so we thought he had got in there for safety.
"I think something scared him, either a fox or another cat."
Sheppey fireman Steve Uggles, who attended the incident, said: "We don't have too much experience in this area, contrary to popular belief, but its all in a day's work."
What a purr-fect ending.