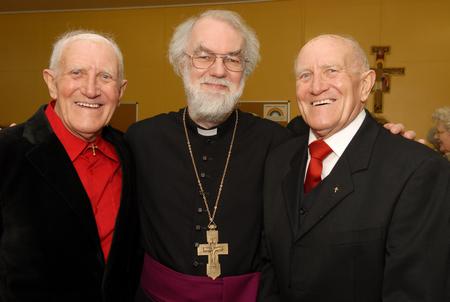 "The only thing he worried about was leaving me."
Those are the poignant words of 86-year-old Patrick Donald Wilson who has paid tribute to his twin, Donald Patrick Wilson, who passed away last week.
Born and raised Islanders, the brothers would be best known for their dedication to Holy Trinity Church in Sheerness.
Don married his wife Janet there in October 1952.
When he left school, he worked as a postman in the town before following Pat into the Merchant Navy, serving all around the world for 25 years.
They returned to Sheppey and both worked for Customs and Excise at Sheerness Docks, which they did until they retired in their 60s.
The pair have always been heavily involved with the church, but after Janet died 12 years ago, Don took up the role of sacristan there.
Don, who lived in St George's Avenue, Sheerness, had only one kidney after an operation that went wrong some years ago.
About a year ago, he was diagnosed with kidney cancer and more recently had other health problems.
He was taken into Medway Maritime Hospital less than two weeks before his death and although he had been due to come home, he became unwell again and passed away at 12.30pm on Wednesday with his son Michael and Pat by his side.
Pat, of Broadway, Sheerness, said: "The day before he passed away, the doctor came to see him and he said 'I haven't had a bad life, I've lived 86 years and have been everywhere and done everything, but I don't want to be pulled around anymore'.
"He said to me he couldn't put up with more of this.
"Don had a good life and was happy for that – the only thing he worried about was leaving me.
"He was a true Islander and a very patriotic man – he was so dedicated to the church.
"He was very well loved and I will miss him."
Pat praised the nurses at the hospital who he said were so caring for his brother and were marvellous.
He also thanked all the well wishers since his twin's death.
"They have all been so lovely – you realise what true friendship is," he added.