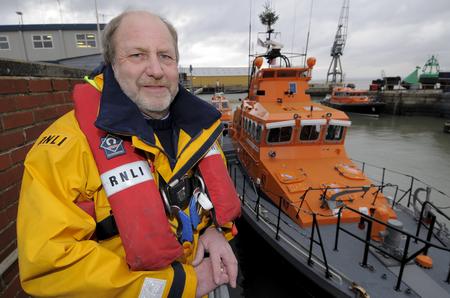 Sheerness RNLI volunteers – who brave all weathers to rescue people in trouble – spent the equivalent of more than six weeks at sea last year.
Lifeboat crews based on Sheppey recorded the highest number of service time out of the whole of the south east and East Anglia by being out for 1,041.63 hours – which works out at more than 43 days.
That number is for the total number of hours the crew members were out, rather than the actual boats.
Overall in 2012, there were 80 launches of the Sheerness lifeboats – the all-weather one, the George and Ivy Swanson, was called out 21 times and Eleanor, the inshore vessel, had 59 missions.
The crews also rescued a total of 105 people which is the most of any of the eight stations last year.
The Island service bucked the trend because overall the RNLI actually saw a fall in the number of launches from the previous year but there were more on the Island compared to 2011, when the Sheerness boats launched 73 times and rescued 74 people.
There are 23 operational volunteer crew who man the Sheppey station, in Sheerness Docks, and Robin Castle is the full time coxswain and mechanic.
There are also another four people being trained up as crew at the moment.
Mr Castle said: "I can't praise my volunteer crew enough for their dedication to the RNLI, but must also mention their families and employers for their support for when the pager sounds for a launch day or night."
Rescues from last year include in January when they were called to a windsurfer in difficulty off the Shingle Bank at Minster.
They found the casualty and had to request an ambulance as he was suffering hypothermia.
In April they were called to a fire on a motorboat near the wreck of the Richard Montgomery.
The blaze was already out when they arrived but they had to treat two people for minor burns and shock.
May brought a mission to Warden Point where four children had been cut off by the tide.
They found them and the youngsters were eventually airlifted to safety – very cold and muddy.