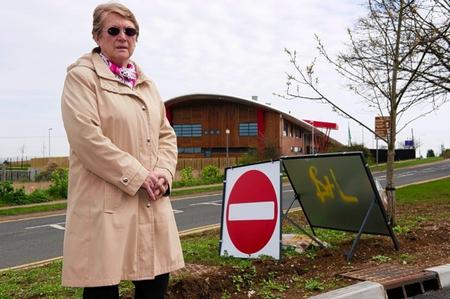 The speed limit on a busy road which runs past a school looks as though it could be changed after months of campaigning.
As part of a countywide scheme, the limits outside all Sheppey schools could be lowered to 20mph.
One of particular concern is outside St Clement's Primary School, on Leysdown Road, Eastchurch – where worried parents and councillors had been calling on Kent Highways to cut the 40mph limit.
A bid by the Joint Transportation Board (JTB) to get it lowered to 30mph last year was successful and, after a long wait, interactive signs were eventually installed to make drivers aware.
However, campaigners believe the road should be a 20mph limit and so Cllr Ken Pugh has been lobbying Kent County Council's cabinet member for highways, Bryan Sweetland, to get Sheppey included in the next phase of a countywide project.
At the moment, the council is running six trials of a '20mph past our school' project in the Maidstone area.
If the trials are successful, the scheme will be rolled out across areas of Kent, including the Island.
It is hoped the trials will finish within the next few months.
A KCC spokesman said: "We are going to see whether [the project] is effective and, if it is, we are going to be rolling it out across the county and it will be coming to Sheppey.
"There has been a growing demand from Kent residents to introduce 20mph speed limits to address road safety concerns.
"Kent County Council is committed to introducing 20mph speed limits on appropriate roads and the county already has around 800 roads where a 20mph limit is applicable.
"Ken Pugh has been lobbying for Sheppey's schools to be first in the next phase of the rollout, if the trials prove successful."
Warden and Leysdown representative Cllr Pat Sandle, who has been calling for the reduction outside St Clement's, welcomed the news but said she hopes it happens as soon as possible.
"It's chaos up there and I just hope there isn't an accident," she said.
"The sooner it's done the better and I would like to say a really big thank you to Ken Pugh."