While most people were warm and cosy inside on Boxing Day a small group of brave souls took to the chilly waters for an annual 'arctic' dip.
Sixteen people, from Rochester Swimming and Lifeguard Club, with some friends from the Medway Rugby League, made their way into the sea off the Minster Leas at 11am.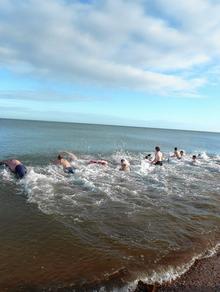 They were cheered on by around 50 spectators.
This was the 52nd dip the club had organised and for a change the temperature was not below freezing – it was measured at 2C.
The rules meant all dippers were dressed in their swimming gear and there were no wetsuits allowed.
There was even a hard core group who came out and decided they were tough enough to go back in.
Life-saving coach Paul Paulding said: "It wasn't freezing so it wasn't too bad. It was really good to see them all there.
"I'd like to thank them for the support and also thank the volunteers who warmed us up with hot soup and coffee afterwards."
This year's swim will take place on Sunday, December 29.