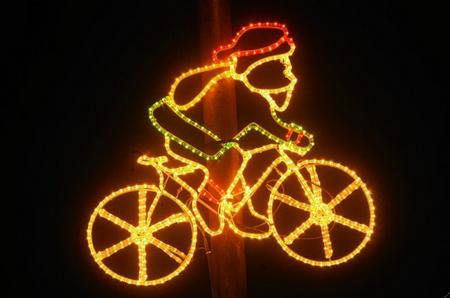 New stars have risen in the east of the Island, leading the way to a winter wonderland.
A project, believed to have been 28 years in the making, to place decorative lights on lampposts heading to Leysdown has finally been completed.
About 40 displays run from Danes Drive, in Bay View, along Leysdown Road to Wing Road.
Businesses have also put up their Christmas illuminations and residents and community groups have dipped into their pockets to make the display possible.
A total of £4,000 has been spent on the new lights – cash raised by Leysdown Parish Council with the help of traders.
At a meeting on Thursday Leysdown Parish Council chairman Geoff Partis said he recalled the lights being discussed when the council was founded back in 1983.
The idea of keeping some of the lights, from Warden Bay Road onwards, in place all year round was also suggested.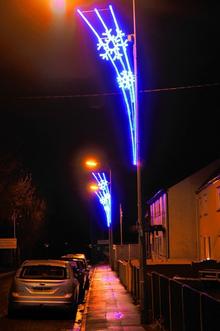 Evelyn Howell, of the Leysdown Over 60s club, has spent £750 on blue stars to hang from the posts near Wing Road.
There are plans to make the village even brighter with the Light up Leysdown project, run by Arts Council England South East, Swale Council, Kent County Council and the parish council.
Schoolchildren and members of the Leysdown Over 60s club have been busy making lanterns with the help of the Big Fist Arts group.
On December 19, a carol service at Eastchurch Primary School, St Clement's site, will be followed by a lantern procession to the seafront, via The Promenade, where the big switch-on will take place.
More designs by artist Rob Olins are hoped to be installed next month as part of the scheme.
Michelle Crowe, head of school at St Clement's, said: "The children have worked with Rob to help design the new illuminations. It has been a great opportunity for them and they are very excited about the switch-on event and working with Big Fish Arts."
The scheme is part of Leysdown Rose-tinted, which aims to regenerate the village.
Anyone who would like to donate money for the lights should call the Leysdown Parish Council office on 01795 511277.