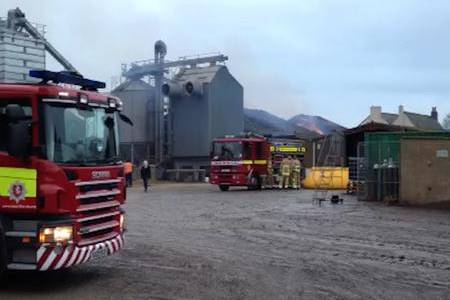 by Lewis Dyson
An Isle of Sheppey farmer has been left counting the cost after a fire at his barn destroyed thousands of pounds of wheat and straw.
Fire crews spent all last night tackling the huge blaze at New Hook Farm, off Lower Road, Eastchurch.
Owner Stephen Attwood estimates £25,000 of straw was destroyed and wheat totalling £35,000 was ruined.
On top of that, he said the cost of replacing the barn itself could cost as much as £650,000.
It is believed a spark from a piece of machinery used to dry the crops caused the fire.
Most of the employees of SW Attwood Estates, the farm's company, had gone home for the day by the time flames picked up.
Accounts receptionist Keely Fuller, 25, was one of the few left and contacted the emergency services.
She said: "It was just before 5pm when I heard this banging. I thought: 'What on earth is going on?'
"I thought it was someone in the car park, so I looked out the window and then I looked around, it was dark and I just saw this orange glow behind the barn."
At its height as many as 30 firefighters were tackling the blaze and crews worked to cool two diesel tanks nearby.
Farm manager Ross "Bubs" Goodwin used a forklift truck to move bales of hay which were nearby out of harms way.
Crews and staff wore face masks to protect them from asbestos in the roof of the barn.
About a dozen firefighters were still at the scene this morning standing by in case the fire spreads again.
The blaze is not being treated as suspicious and is not being linked with a suspected arson attack at Neats Court Farm, Queenborough Road, Queenborough, 10 days earlier that caused damage totalling £45,000.