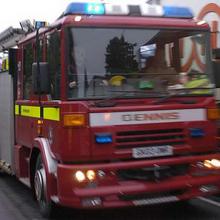 A cat almost lost one of its nine lives when it had to be rescued by firefighters after a blaze broke out in the kitchen of a house.
Sheppey crews were called to the fire at a terraced house in Invicta Road, Sheerness, at 11.10am on Tuesday.
It had started in a tumble-dryer.
The family was not at home at the time but their three cats and dog were inside the house.
Crews with breathing apparatus were sent in and were able to find two of the cats and the dog but are unsure what happened to the third feline.
Watch manager Tony Fox said one of the animals was found in a bedroom and at first firefighters thought it was dead.
However, they rushed it outside and after it was given oxygen it started to come round.
Both cats were taken to Well Pets in Sheerness, where they were still being treated as we went to press.
The dog was also affected by the smoke but did not need to go to the vets.
The tumble-dryer was destroyed and the kitchen was badly damaged.
The rest of the house was also severely smoke damaged and crews had to use a fan to ventilate the house.
Although firefighters are not certain what caused the blaze, it is thought it could have been that the clothes in the dryer over-heated or because it had recently been moved, the vent could have been blocked.
Mr Fox added that the fire spread rapidly across the polystyrene tiles in the kitchen.
The fire crew was at the scene for about an hour-and-a-half.