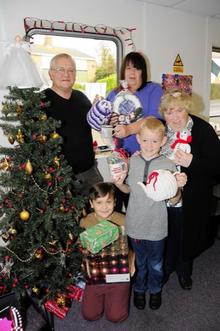 Festive fun was the order of the day at a fundraising fair.
New Road Community Centre in Minster hosted its Christmas fete on Saturday.
There was a range of arts and craft stalls and refreshments on sale. It raised £150 which will be put back into the centre.
A spokesman said: "It was really good fun – very well attended and supported by the community."
There's plenty more fun planned at the centre.
On Friday from 7pm there will be a Christmas quiz which costs £5 per person including a buffet.
Teams are of four to eight people and there will also be a raffle and auction.
On Wednesday, December 12, there is a Christmas tea dance which starts at 1.30pm and costs £1.50 which includes a cracker and a mince pie.
The centre's Christmas show is being put on by children from the arts and crafts club and volunteers on Friday, December 14, from 7pm.
It's a variety show and will feature sketches, singing, saxophone playing.
For more information on events or to book, phone Cheryl Mitchell on 01795 873841.
For more pictures, see this week's Times Guardian.