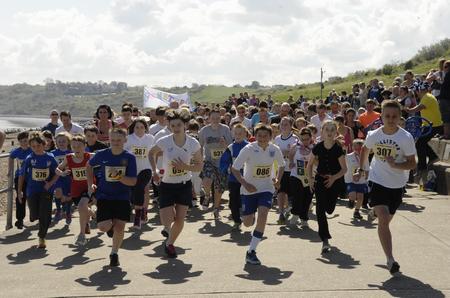 Money raised through one of Sheppey's most popular fundraisers has now exceeded £50,000 and organisers have thanked the community for its help.
The announcement comes as details are released about 2013's Paul Trigwell Island Run (PTIR).
This year will be the seventh anniversary of the event, which was set up to support the Paul Trigwell Memorial Fund, launched in memory of Mr Trigwell, the head teacher of St George's Middle School in Minster, who died suddenly in 2006.
Over those six years, the fund has been able to make 220 grants to groups and individuals, totalling £53,000.
Money is used to help Island children who are in need of support and includes paying for PE kits, making sure schools have a supply of spare clothes and paying for school trips if parents can't afford them.
A lot of the funding also goes to helping out youngsters with special talents, such as music or drama, whose parents can't afford the training.
This year's PTIR will be on Sunday, May 12, and as usual there will be four events to choose from – a two-mile run; a 10-mile run; a 10-mile walk and a 10-mile team relay.
The theme for 2013 is animals and it is hoped participants will go along in fancy dress.
Mr Trigwell's daughter Bethan, 25, said they are overwhelmed by the support they get each year and are pleased to attract runners from all over Kent and London.
She said: "Everybody is realising that there are children on the Island that need help."
"We are really proud of what we have achieved and would like to share it with the community, which has helped to raise it.
"We just can't believe so many people are willing to get involved every year and keep dad's name alive.
"It motivates us because people get excited about it.
"It's a brilliant community on the Island and hitting £50,000 has really made us realise how people come together. The funds really go a long way."
To sign up and for more information, visit the website or search Paul Trigwell Island Run on Facebook.