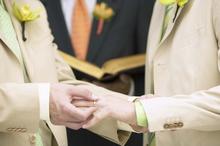 A gay man who wed his partner almost seven years ago has spoken out about the ongoing row over homosexual marriages in religious buildings.
PM David Cameron sparked debate after saying he wants new laws brought in to allow gay people to marry in a church.
But he has come up against fierce opposition from his own MPs and it has now been decided that Church of England establishments will be banned from offering same-sex ceremonies while other organisations would be able to "opt in".
Church-goers Iain Maxstead and David Fuller, who live in Warden Bay, would have liked a service in their church but when they wed in 2006 it was not option. Instead, they had a civil partnership at a register office in Sittingbourne.
However, they also had a religious marriage ceremony conducted by Bishop Jonathan Blake of Greater London in Eastchurch.
The pair have been together for 26 years.
Mr Maxstead, who works at Mann Countrywide in Sheerness, said: "As far as I'm concerned we got married. Marriage isn't just about producing children – it's about family and family isn't necessarily mum and dad.
"I don't need a church to tell me whether it's OK to be gay.
"If you look at tradition the church is failing in this country massively and the reason it's down isn't because it's upholding tradition but because it's not in touch with reality or what's going on in communities.
"The church is not looking at what the community is built on.
"Does it matter whether we are straight or gay or Christians or not?"
Mr Maxstead also says he believes the church should support all of its followers as they are not selective when handing around the collection tray.
He also points out that he was christened in a church and his funeral will be in one – so believes he should be able to have the middle part there too.
"David and I are proud of what we are," he added.
"I'm not standing outside as an activist with a flag, I'm saying I don't see why I should be treated any different when I go to church as the person sitting next to me."
Father Frank Moran, of Sheppey Catholic Church, has also given his opinions on the topic.
"I think [same-sex marriage] is completely anti-Bible," he said.
"It's not allowed in the Bible and I wouldn't be happy with it and I wouldn't be happy to be asked to officiate at a gay wedding.
"I don't think it should be called marriage.
"It could be called a union or friendship, but it's not a marriage.
"Marriage is [defined] as a union between man and wife by the church for the procreation of children and for mutual love but that can't happen in a gay marriage."
He said it would not be something he would opt in to offering at the church in Broadway, Sheerness.
Meanwhile, MP Gordon Henderson is one of more than 60 MPs who have written a letter condemning Mr Cameron's plans.
He said: "We have to protect those people of faith who believe that changing or redefining marriage in such a way is a fundamental attack on their faith and they should be listened to.
"My problem is that by its current definition, marriage is an institution between a man and a woman."