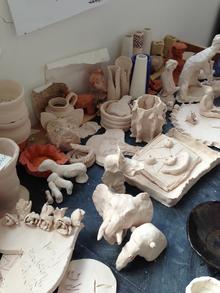 Residents are being invited to have their say on how to spend Swale's share of a £1.5 million arts grant.
Last summer, we reported how Arts Council England has awarded £1,476,000 to a consortium called Creative People and Places: Swale and Medway, which is made up of different groups to spend on art-based activities.
The Swale and Medway group was one of seven successful applicants across England and the only one in the South East.
In total, just under £16 million has been awarded.
To give Islanders the chance to put forward their ideas on how it could be used, a creative activity day has been organised.
Residents are being invited to go along and take part and also give their suggestions on what kinds of art projects, events and activities could be staged with the money to improve the borough.
The aim of the grant is to inspire people and groups who don't think the arts are for them, to get involved.
The consortium has organised an event to meet members of the Sheppey public at a clay day which has been organised by FrancisKnight Contemporary Arts Practice, which is one of the partner groups.
It will take place on Saturday, February 23, at Castle Connections in Railway Terrace, Queenborough, from 11am until 4pm.
As well as getting your hands dirty making clay models, you will be able to talk about your ideas for how the cash could be spent.
Three more public events including a pop-up cinema and interactive performances are being organised for March as well.
Residents are also asked to nominate 'community catalysts' – which will be prominent members of Island life who already do a lot locally and will be able to engage others to get involved.
Nominations can be made at the clay day and via the website (address below) from March.