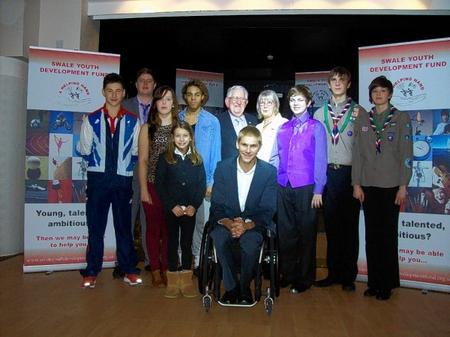 Eight talented young people have spoken of how a charity has helped them pursue their dreams.
Champion bowler Perry Martin, 19, of Emerald Crescent, Sittingbourne, and table tennis player Ross Wilson, 17, of Seaside Avenue, Minster, addressed an audience of 100 local business representatives, dignitaries and community workers.
Receiving financial contributions from the Swale Youth Development Fund allowed them to develop their talent.
Paralympian Steve Brown, who is a trustee for the fund, interviewed the pair during a showcase evening at the Coniston Hotel to highlight the charity's work.
Pamela Prescott, trustee and fundraising officer, also spoke to Conner Williams, 18, from Sittingbourne, a contemporary dancer; Sittingbourne Scout members Katie Marshall, 17, and Daniel Ottaway, 16, both from Sittingbourne; Lydia Scott, 13, from Sittingbourne, a water polo player; Molly Bushell, 11, from Faversham, an artistic gymnast; and Toby Turpin, 12, from Minster, an Irish dancer, who have all benefited.
In 1984 the then Mayor and Mayoress of Swale, Richard and Rose Moreton, came up with the idea of an initiative to support talented young people up to the age of 21.
It was prompted after they came across a number of youngsters who could not make their dreams become a reality due to a lack of finances.
To date it has handed out £93,000 to hundreds of successful applicants with grants ranging from £50 up to bursaries of £1,000.
The money comes from donations and fundraising.
Skater Jayne Torvill was made a patron in March 2006.
In 2010, to mark its 25th anniversary, The Richard Moreton Bursary Fund was launched in memory of Richard, who died in 1991.
Chairman Carole Nealey said: "We often hear of criticism of today's youngsters but we have a different story to tell.
"These young people are amazing, they're incredible when you talk to them and hear about their commitment to what they do."
The evening raised £170 through donations with many of those who attended promising to hold fundraising events, while £357.50 was also presented to Mrs Nealey by Graham Epsley.
The money was raised by his parents Derek and Mary, who put a collection tin on the counter of their business – Chilton Manor Farm in Highsted Road, Sittingbourne.