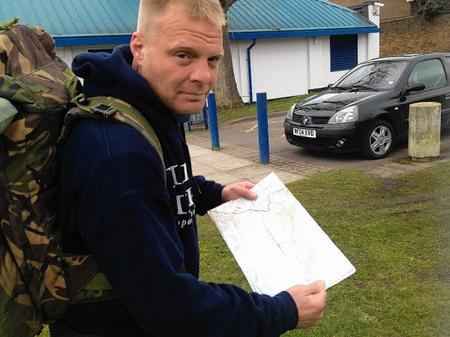 A homeless ex-soldier arrived in Sheppey on his trek along Britain's coastline to raise money for wounded servicemen.
Christian Nock crossed the Kingsferry Bridge on Tuesday and spent two and a half days walking the Island's circumference.
He had met Jade Morrow the previous night while visiting the Woolpack Inn, Iwade, who invited him for a cup of tea at her work in Sheerness Swimming Pool the next day.
He then went to The Royal Hotel, Broadway, Sheerness, where he had dinner and watched England draw with Montenegro on television.
After spending the night camping on a patch of grass in Beachfields, he was invited back to the Royal Road pub for breakfast by owner Dave Ingram.
Since he set off from Blackpool on August 8 last year, the 39-year-old has been through nine pairs of boots, five colds, one bout of 'flu and a case of tendonitis.
After 231 days he was nearly a third of the way through his journey and stays outside each night in a tent which he carries in a 30kg rucksack.
Although friends have joined him along the way most of them have found they could not hack the rain and the cold. He is currently being accompanied by pal Janine Tucker.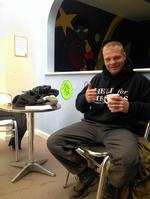 He has so far raised more than £40,000 for Help for Heroes - smashing his initial £10,000 target.
The former corporal spent eight years in the Staffordshire Regiment, which included several tours of Northern Ireland.
He said: "I have seen some wonderful places. I'm becoming like the real Forrest Gump."
The route takes in islands, provided they are connected to the mainland.
Everything is done on foot so when Mr Nock reaches a river, unless there is a crossing, he will walk along its bank until he reaches the source, before going back out to the estuary.
He is unaware of anyone who has attempted to walk around Britain this way before and has heard the distance estimated between 7,000 and 11,000 miles.