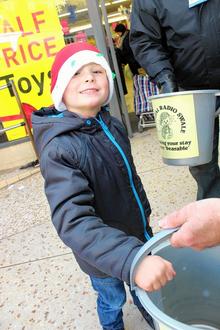 Popular Christmas songs put High Street shoppers in a festive mood on Saturday.
They were being played by Hospital Radio Swale presenter 'Dusty' who had lined up the classics including Walking in a Winter Wonderland and Slade's Merry Christmas Everybody.
Dusty, whose temporary studio was outside the store, Twenty One, said: "The shoppers loved it and we had an absolutely fantastic response."
Dusty said: "Patients often put request slips asking for songs through my door at the hospital. I think that the station brightens people's day, it really helps to cheer them up."
The cash is still being counted, but it will all go towards funding the station licence and paying for new equipment.