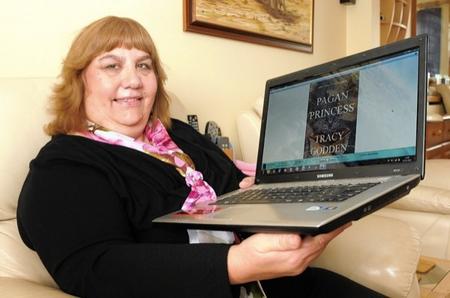 A breast cancer survivor, who explored her creative side to escape her ordeal, has published her first novel on the internet.
Tracy Godden, of Ashley Close, Halfway, was encouraged by her family to follow her passion for writing and painting after she developed a tumour which came up almost overnight.
Now the 54-year-old plans to donate 30p per download from any royalties she receives, from her romantic fantasy Pagan Princess, to Breast Cancer Care.
Mrs Godden, who works two nights a week at the checkout in Tesco, Sheerness, was diagnosed last year and months of treatment, which included a mastectomy, chemotherapy and radiotherapy, left her feeling low.
The mother of three and grandmother of six – with a seventh on the way – said: "When you have a life-threatening illness, obviously like everyone else you think you are going to die. You get very depressed, you are miserable.
"I was sitting in the chair crying, feeling very depressed and my husband [Steve, 56] said: 'Why don't you just do your book?'"
She decided to go back to the story she had been writing off and on for two years.
Mrs Godden said: "It really helped me through my illness. It gave me an objective, a reason to keep going.
"That was a catalyst really for me to get up and do something.
"You never think you are good enough to do something.
"All my life my family have said: 'Why on earth don't you do something with your talents?'
"I would like to inspire people to carry on and never give up.
"I would encourage anyone who is suffering like this to do something because it helps to take your mind off the treatment and focus on something."
Six months of radiotherapy ended in November 2011 and a check-up in April this year revealed the cancer has so far not returned.
Prints and canvasses of her paintings, which feature landscapes and endangered species of animals, are also being sold on the website fineartamerica.com
Pagan Princess, which is set in Britain's Dark Ages, is available from amazon.co.uk for £3.39.