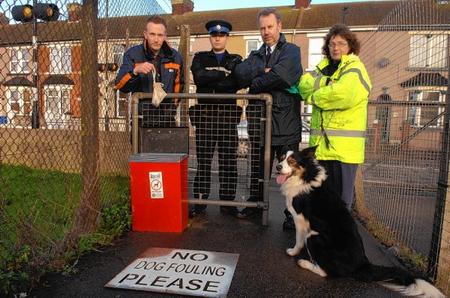 Islanders are fed up with dog mess blighting our lovely landscape so the Times Guardian has teamed up with Swale council to launch our Foul Play campaign. Emma Grove reports.
Pet owners not cleaning up after their dogs is an issue which we know really angers our readers.
We get so much feedback about it from people that we have joined forces with Swale council to help with a crackdown on irresponsible owners.
The council's environment response manager Alister Andrews, animal control officer Tim Oxley and the team of environment wardens are as keen as everyone else is to clear up the Sheppey streets – but they need the help of residents.
Mr Andrews says they've seen an increase in the number of complaints about dog fouling in recent months and believe this could partly be because of the darker evenings.
They think either people are not realising their pets are messing or are just ignoring it under cover of darkness.
But he explained it's very difficult for council wardens to catch people in the act, so part of their campaign is to encourage residents and responsible dog owners to report it if they know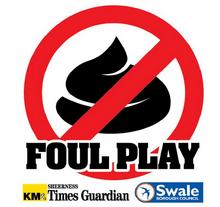 who is doing it.
They are calling on Islanders to let them know WHO is doing it, WHERE it's happening and WHEN they spot it so they can target their resources accordingly and issue fines to offenders.
"We can only be there to monitor it for a small amount of time so we are unlikely to be able to fine people," Mr Andrews said.
"Residents can help us by telling us who is doing it and we can target our resources a lot more efficiently.
"We are prepared to tackle it but we need the community to step forward and provide us with the information.
"There's an army of people out there who can issue fixed penalty notices on the Island."
People not clearing up after their dogs is an issue right across the Island but particular problem areas include Marine Town in Sheerness and places popular with walkers such as Barton's Point in Sheerness and the Minster Leas.
As well as the who, where and when campaign, Swale council has also been working with the Green Dog Walkers group, run by Sheppey Matters.
The group is made up of responsible dog owners who will go out and issue mess bags to people who don't have them and make a friendly approach to anyone they see not clearing up.
They are also putting more notices up to try and get people to take note and are even spraying messages saying 'no fouling please' on the pavement in alleyways where it's a problem.
There are also possible plans for a scheme which will reward good behaviour spotted by wardens.
Mr Oxley says the subject of educating the public about dog fouling needs to be treated like a culture change, like when the smoking ban was brought in.
It's not something which has always been seen as unacceptable, but now it is so people need to change their way of thinking about it. He says it's not one type of person that's guilty of it – but a whole array of residents.
"It's a community thing – we don't want dog mess all over the place," he said. "Dog fouling is awful and it's dangerous– it can cause diseases and even blindness and it's an anti-social problem. It's about the community taking charge of it."
If you can report specifics of people who let their dogs' mess and don't clear it up, phone the council on 01795 417850 or go online
---
Factfile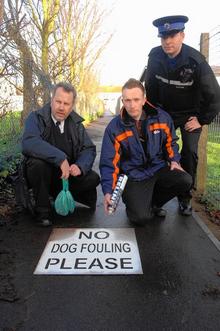 Anyone caught leaving their dog's mess behind can be issued with an on-the-spot fixed penalty notice for £80, which reduces to £60 if paid within seven days.
Failure to pay can result in a prosecution with a maximum of a £1,000 fine.
Swale council has seven environment wardens which can issue the notices as well as animal control officer Tim Oxley and all the PCSOs.
The council has received 54 complaints of dog fouling on Sheppey in the last three months and 25 of these were from Sheerness.
There are 90 animal waste bins on Sheppey as well as 314 litter bins, which dog poo can also be put in as long as it's in a bag.
Swale council has worked with residents to place free bag dispensers along The Leas and Seathorpe Avenue in Minster; Crundells Wharf in Queenborough and two in Marine Town, Sheerness.
There are residents who volunteer and go to fill up the bag dispensers.
Mr Oxley estimates it's a minority of about 5% of dog owners which are causing the problem. But if there are, for example, 200 people a day walking along the Minster Leas and 5% of them don't pick up, that's 10 poos which creates an issue.