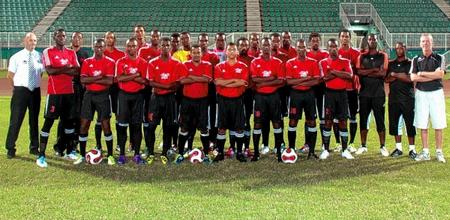 Much like the weather in the Caribbean, Kevin Harrison's career in the beautiful game has been a whirlwind.
The former Minster man currently lives in the town of California, near Couva, Trinidad and Tobago, and is the operations director of Central FC.
The 51-year-old said: "Basically, I have to do everything required to make the club work. One day we will be meeting sponsors or government ministers, the next day sorting out the training kits and equipment.
"My job is to run the business side of the club and organise our community projects."
It is a long way away from working at Weidmuller, in Halfway, Mann & Co Estate Agents and G2M The Mortgage House in Sheerness, and his first job as a bingo caller in Leysdown.
It was only recently the former Sheppey Comprehensive pupil and past chairman of the Isle of Sheppey Round Table entered the sport, joining the Professional Footballers' Association's Wealth Management department in 2006.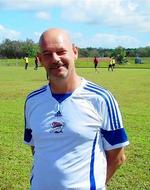 He gave financial advice to players at teams including Tottenham Hotspur, Gillingham, Watford, Leyton Orient, Cambridge United and Hereford United.
After the 2006 World Cup, Kevin was approached by Trinidad and Tobago internationals Brent Sancho, Kelvin Jack and Ian Cox, who asked for his help with a dispute over bonus payments to the squad.
Following several visits to the Caribbean to do with the legal action, he was offered a job by the TT Pro League, the country's equivalent of the Football League.
He turned it down, but on a further trip he helped negotiate the largest independent sponsorship deal in the league, between DirecTV and North East Stars FC, where Brent Sancho was CEO.
The former Gills defender convinced him to stay as operations director.
Two years later, the duo spotted an opportunity in the industrial region of California, which houses about 10,000 oil and gas workers. They set up Central FC in July last year.
Former Arsenal captain Graham Rix was the first head coach before former England international Terry Fenwick was appointed in his place at Christmas.
Central FC has a five-year plan which includes building the Caribbean's only bespoke football academy and a stadium.
---
Kevin explained he is already gaining a name in the sporting world over there.
He said: "I have developed a good reputation and I believe I am well respected. I often commentate on football matches here, including international matches, and was also on a TV panel for the 2010 World Cup finals.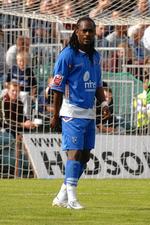 "After being asked hundreds of times, both in England and Trinidad, if the guy with me is Brent Sancho [pictured], it was great for me one day when a guy tapped Brent on the shoulder and asked him if I was Kevin Harrison.
"There is a wealth of talent here and we see our job as identifying players at an early age and developing them to become attractive to European and US clubs. We are just about to sign a major deal with one of the world's top clubs. Our eventual aim is to compete in the USL in North America."
However, Kevin admits it's not all paradise: "I do get homesick occasionally, particularly for simple things like a proper English breakfast, a proper pint of beer and a proper English Chinese take-away from Halfway. I also miss boozy nights at the Royal Hotel in Sheerness."
Kevin and his girlfriend are expecting a baby in February and his son Billy, 19, has already flown over to visit.