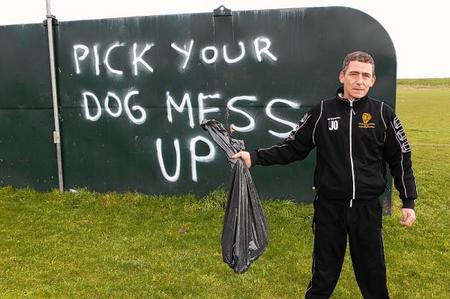 The problem of dog mess on Sheppey is so bad a football club's groundsman is having to clear the pitch of piles of poo before matches.
Last week the Times Guardian launched its Foul Play campaign in partnership with Swale council. The campaign aims to crackdown on the mess and fine the owners responsible.
Members of Leysdown FC, who play in Shellness, are supporting the campaign as they are fed up with dog walkers letting their pets foul on the pitch.
John Osmondcorr has been the club's groundsman for three years and describes the issue as an epidemic.
Because of the location of the pitch on the coastal path, it's very popular with walkers. But because of its remoteness, Mr Osmond says, people think they can get away with it.
He reckons some weekends before a match he can pick up as many as 20 separate piles of poo, which fill up half a carrier bag.
And it's not just on the pitch – it's all round the changing rooms too.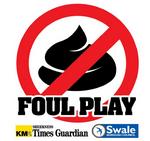 "I sit there sometimes and watch and people blatantly do it," the 44-year-old said.
"We lease the pitch off the council and because we are so far away down there, they just do it and get away with it and some of them are prolific.
"It's really disgusting. They should have a bit of respect as kids have got to play on this pitch."
It has got to such a point that Mr Osmond says they are putting their own signs up and are even thinking about installing cameras to catch people in the act and help tackle the problem.
However, it's not all the dog walkers. Mr Osmond says there are many responsible pet owners, including one who recently displayed their own signs in the area asking people to pick up as it gives them all a bad name.
Club secretary Melissa Boilingcorr added: "It's disgusting and annoying. If the kids are playing and slide tackling and go through dog's mess it's horrible.
"It doesn't hurt people to take a bag with them and pick it up, I do with my dogs."
---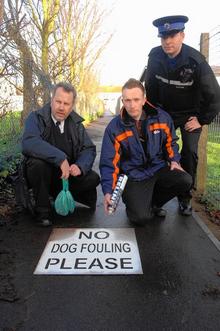 The Foul Play campaign is calling on Islanders to help the council fix the problem.
The council is asking residents to report who is not picking up the mess, where it is happening and when they spot them doing it.
It's difficult for council wardens to catch people in the act so having information from those who see it happening regularly will help them target their resources more effectively and, hopefully, enable them to identify those responsible.
Anyone spotted leaving dog mess can be issued an on-the-spot fixed penalty notice for £80, which reduces to £60 if paid within seven days.
Failure to pay can result in a prosecution with a maximum £1,000 fine.
To report specifics of people who don't pick up their dog's mess, phone the council on 01795 417850 or go online