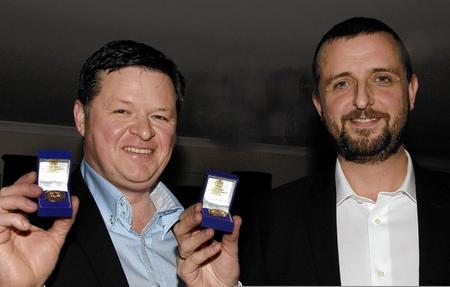 Two Sheerness lifeboat crew members were recognised for 20 years of volunteering.
Deputy second coxswain Clive Hancock and inshore lifeboat helmsman Andy Barnes were presented with long-service awards and a gift of weekend theatre breaks in London for them and their partners.
Crew past and present, along with their families, were at Sheerness golf club on Friday evening to celebrate the milestone.
Andy, 37, of Southsea Avenue, Minster, started when his dad and brother were both on the crew.
He said: "There are always one or two jobs in a year that are quite rewarding, that you know you have saved somebody's life.
"That makes you keep doing it, when you can see it in their eyes they are eternally grateful."

The father-of-two, who owns shipping business Kleerfreight near the lifeboat station in Sheerness docks, added: "It is quite flattering to get to recognition for my personal time on a boat, but really I'm just a part of a big team.
"It doesn't seem like it has been 20 years already.
"It is a way of life in that you are either cut out for it or you are not."
Clive, 41, of Queenborough Road, Halfway, said: "It is a massive commitment. I have got a young family, so it is quite a wrench sometimes, but it is very enjoyable and there is great camaraderie between the lads."
The father of two, who works at A Glazecorr, Sittingbourne, added: "It is very nice to get a little bit of recognition for the effort you put in."
Lifeboat operations manager Colin Washford, who presented the awards, said: "From 1992 until 2012 the station boats have launched a total of 1,693 times, rescued 1,701 people, of these saved 159 lives, this being a great record of their achievements."
Clive and Andy both spent their two decades under full time coxswain mechanic Robin Castle MBE.
A cheque for £1,000, to go towards the maritime rescue charity, was presented to Mr Washford by the steward of Sheerness Conservative Club and long time supporter, Peter Fagg.
The donation was mainly raised by the sale of books at the front of the Broadway, Sheerness, club.