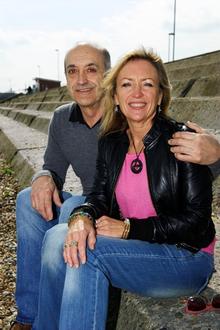 by Lewis Dyson
A secret which took half-a-century to come to light has allowed a Sheppey man to meet the half-sister from Australia he never knew he had.
Months of work resulted in Junia Kerr, who lives North Bondai, tracking down half-sibling Marcus Taylor, of Nelson Close, Sheerness.
Their father Gordon Taylor married and had two children in Sheppey in the 1950s: Marcus, now 59, and Lesley, who died last year.
He left while they were young and moved to Australia and then New Zealand, changing his name to Bob Kerr. Over there, he re-married and fathered two children, Junia and Hagen.
Junia lived her whole life with no inkling of her father's past until her dad, now 82, fell ill.
"He was always very secretive about his life back in England," the 51-year-old said.
The only remnant of Bob's old life was close family friend Brenda Cullwick, to whom he would often write.
"In the last couple of years he has developed Alzheimer's so I wrote to his friend Brenda, from Esher, Surrey, and asked her if there was anything I should know about his past.
"She promptly wrote back and said 'Yes, here's a photo of Marcus and first wife, Betty, and he has two children born on Sheppey."
She then took steps to find her long-lost relations by contacting a man in England via the internet who reunites families in his spare time.
He managed to give her Marcus's phone number.
Marcus said: "I came home from work, went into the living room and checked my messages. Suddenly there was this emotional Australian's voice. She thought she was contacting my mother and said she was looking for us. Anyway, I was a little bit shocked to say the least.
"I didn't reply straight away because I was thinking about my mother. After a week or two I decided to confront mum and she was actually very good about it."
By this point Junia was getting frustrated, but her luck changed when she got the phone number of Peter Olliver, whose half-brother Leon is Marcus's nephew.
He was able to get the two of them speak for the first time over the phone in a conversation that lasted four hours.
---
Gordon Taylor came to Sheppey from Scotland in the 1950s and married Betty.
He left when Marcus was three and Lesley was one.
Marcus said: "I have no recollection of him. As far as I was concerned he died years ago."
"He was quite an adventurous person," Junia explained, "He wanted to travel the world but Betty wanted to stay."
Bob struggles to recognise familiar faces. Junia had hoped he could see Marcus again but said he would not know who he was.
On March 29, Junia flew to England and the two met for the first time.
She said: "We spent the first week basically getting to know everyone and going to the pub and having a few glasses of wine.
"Then we went on a trip around Italy and France for 10 days and had a ball really."
Marcus said: "It was a great way of bonding and coming closer together. It is a memory I will have for the rest of my life and I'm looking forward to meeting Hagen in the future."