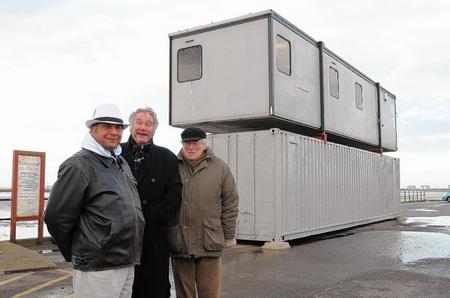 Members of a group set up to manage moorings in Queenborough are hoping their new office will give them a different perspective.
Queenborough Harbour Trust has moved into a mobile office on top of a shipping container in Crundell's Wharf.
It is hoped the new vantage point will provide better security for people who leave their boats in the town's waterways.
Geof Reed, of the trust, said: "When we took over nine months ago, that was always our priority, so you can secure the harbour and it helps monitor the boats.
"It is to improve what the Queenborough Harbour Trust can offer to the people that moor their boats here."
Mr Reed added that further security arrangements such as CCTV are planned and when conditions were right the group would look at increasing the number of spaces for vessels.
Regarding the not-for-profit organisation's finances, Mr Reed said: "We are finishing the year in the black, which to be honest, is something we didn't always think would be the case.
"We are looking forward to the new year to continue the improvements being made to the mooring facilities."
This month, Queenborough will be represented for the first time at the London Boat Show. Trustees will be there with their own stall in hopes of drumming up support for the town.