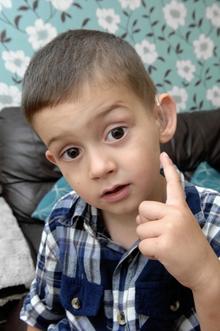 Generous Islanders have been thanked for a second year of fundraising by the family of Oliver Smith.
The four-year-old's mum, Natalie, also wanted to wish everyone a happy Christmas and New Year.
Since June last year, Times Guardian readers have helped to raise more than £90,000 for the Oliver Smith Appeal.
He has the childhood cancer neuroblastoma and his family is trying to raise £150,000 for treatment he could need in Germany if his condition gets worse.
The money has come from a series of sponsored events, fun days, donations and the sale of wristbands and other merchandise.
Natalie, of Coral Road, Minster, said: "Oliver, me and all my family would like to send our heartfelt thanks to everyone on Sheppey who has given to the appeal, staged an event or donated their time, money or goods in any way.
"We have been overwhelmed by the support we have received and really feel like just saying thank you isn't enough.
"We are so grateful and would like to wish everyone a very happy Christmas and New Year."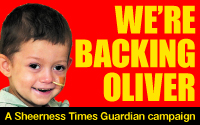 To donate to the Oliver Smith Appeal, text OLIS99 and the amount you want to give (from £1 to £10) to 70070. It will be included in your bill or deducted from your balance.
You can also pop into the Times Guardian office, where you can put money in a collection bucket, or give online at www.bmycharity.com/oliversmithappeal
We also have CDs, wristbands and car stickers for sale.