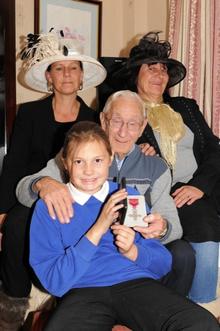 A volunteer who uses music to rehabilitate prisoners, has been honoured by the Queen.
Stan Partner, of Lovell Road, Minster, was made an MBE at Buckingham Palace on Friday.
The 81-year-old was given the honour in recognition of his voluntary work as the conductor of a brass band at category D open prison Standford Hill, Eastchurch.
He travelled to the capital with his granddaughter, Megan Gale, and daughters Sharon Gale and Denise Luckhurst.
He said: "You couldn't grasp what was happening it was so fast and so beautiful you have never seen anything like it in your life. It was just out of this world.
"It is so fabulous you can't describe it. I've been to a few places in my lifetime, I have never seen anywhere like it that could come anywhere near that lot.
"There were chandeliers that look half the size of a football pitch down the centre of the room."
After a tour through the palace, including the lavish art gallery, the father of two, grandfather of five and great-grandfather of four,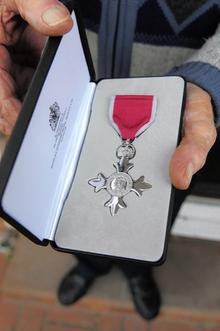 was presented with his medal by the monarch in the main ballroom.
He said: "She's very small, she has to stand on a little stand to pin the medal on you.
"She thanked me very much for my 34 years in uniform and thanked me very much for continuing with it after my retirement."
Mr Partner also has a British Empire Medal from 1989 for his service as a prison officer.
He started at Standford Hill in 1959 and continues running the classes, which are held on Mondays and Thursdays, into his retirement.
Over the years, the band has played at private events, carol services, churches and old people's homes and featured on BBC Radio Kent and South East Today television.
Originally from Coalville, Leicestershire, Mr Partner started to learn how to play brass instruments at the age of 12.
He left school at the age of 14, and worked in a pit before he was called up to National Service in 1951.