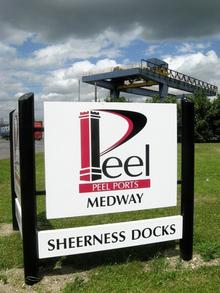 Another 25 Sheppey jobs are at risk after the Port of Sheerness announced it is considering closing part of its fresh produce facility.
Workers were expected to learn about the proposals on Tuesday – exactly a week before Christmas.
The future of one of the warehouses at the docks is under review and a 90-day consultation with staff is taking place.
Warehouse Six is a fresh produce warehouse but not the only one at the docks.
If it were to close, about 25 employees would be made redundant.
However, a spokesman for the port said the proposal is subject to consultation and is not final.
The shake-up has come as a result of changes in the way fresh produce is transported around the world, which has lead to a serious decline on imports of fruit and vegetables coming into the docks over the last eight years.
The port is geared towards conventional refrigerated vessels whereas fruit and vegetables are increasingly moved around the world in refrigerated containers.
In 2003/4 more than a million tonnes of fresh produce passed through but this dropped to just 240,000 tonnes in 2010 – and fell further last year.
The spokesman said the docks will continue to service its fresh produce customers, which include key clients Essential, A1, Grapes Direct and Chiquita.
There are also plans to increase other sections of the port, including the import and export of vehicles and equipment, steel, forest products, containers, handling special project cargo, and using part for renewables operations. But it is not thought any of this would create jobs.
A spokesman for operators Peel Ports added: "During the consultation we will work with our representatives and employees to identify what resources are required to support the business and its customers for the future.
"Our priority is to plan our resources for the future and utilise our existing staff as much as possible to minimise the risk of redundancy.
"We are currently talking to existing and potential customers, subject to contracts being agreed and signed.
"We are looking at our port estate and evaluating how we can best use our land berths and infrastructure in the future."
The news comes just two weeks after we reported how more than 56 jobs are set to go at Queenborough-based Invicta Merchant Bar.