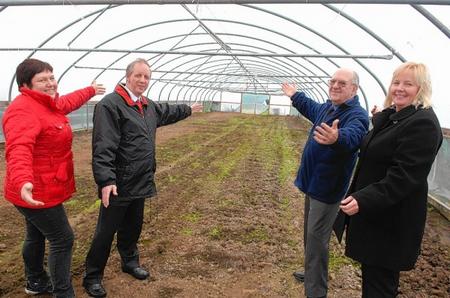 Land near a Sheppey prison is to be opened up to the public so the community can grow sustainable food.
The Ministry of Justice is drawing back its boundaries in Eastchurch, making acres of space available for the benefit of people on the Island.
A plot measuring 100m by 30m is to be offered as free-to-use allotments from March 1.
A total of 18 polytunnels will also be built with each one covering 13m by 10m as well as three large greenhouses.
There will also be an area to sell fresh fruit and vegetables and a couple of storage sheds.
It is hoped 100 horticulturists will take advantage within the first year with a view to a further 400 over three years in similar projects across the Island.
Sheppey Matters will use part of a £946,275 grant from The Big Lottery Fund set aside for the Sustainable Sheppey Project last September.
Charity manager Nigel Martin said: "People will have seen or heard that food prices are going to be shooting up because of the rubbish summer we had.
This is a way of keeping the costs down because you do it yourself."
Community gardener Nicola Waghorne will advise on the best ways to cultivate the land.
One idea is for community chef Mike Spackman to show people how to cook food freshly dug from the ground in his mobile kitchen.
Prisoners near the end of their sentences from HMP Standford Hill and the Kent Council on Addiction will make use of the land for rehabilitation purposes.
Sheppey Matters has started approaching groups of all ages to see if they might be interested in taking part and is trying to secure a minibus to transport people there once or twice a week.
Seven or eight further projects are also in the pipeline for the area including turning locally produced vegetable oil into diesel fuel.
Anyone interested in applying for an allotment or to donate unwanted gardening equipment should call Sheppey Matters on 01795 583547