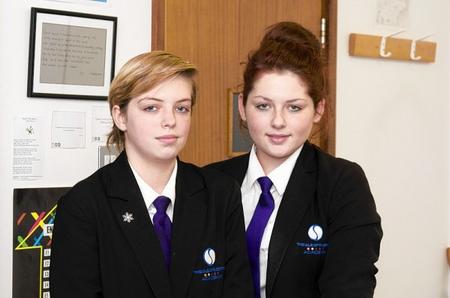 A new student parliament is making sure the voices of youngsters are heard at the Isle of Sheppey Academy.
This year is the first time the school has elected a group of pupils which meets with staff to discuss ways to improve.
Each year group has boy and girl representatives but an executive panel of leaders has been voted in by both their fellow students and staff.
At the east site, Phillip Benjamin Williams, 14, is executive head boy while Maddie Springett, who also sits on the Kent Youth County Council, is executive head girl.
They are supported by Lauren Hayes, 14, and Ewan Goddard, 15, who are deputy executive heads.
At the Jefferson Road site, Charlie Barnes is executive head boy and Tara Boosey is head girl, while Ben Ward and Kelcy Price are deputies.
There was no expenses scandal in this parliament as each candidate had a £20 budget for their campaign with Maddie choosing to hand out sweets with "vote for me" messages on them while Ewan spent his on a banner.
The group held its first meeting with principal David Day, the chairman of governors and the senior leadership team, this term and the minutes were included in a flyer sent out to all teachers.
Head boy Phillip said: "Our first meeting was quite daunting
we talked about the issues around the school and there were lots of positives like what we would do to improve behaviour."
The meetings are also an opportunity for pupils to have their say on the curriculum.
Maddie explained: "We are the student voice box, any pupils having issues can speak to us and we will inform the teachers."
Ewan said: "I got into this to help other pupils not to help myself."
Teacher Syreeta Bowditch, who is head of student voice, said this is not the first time the school has had a parliament but it is the first time students had an election and the first time students have met directly with staff.