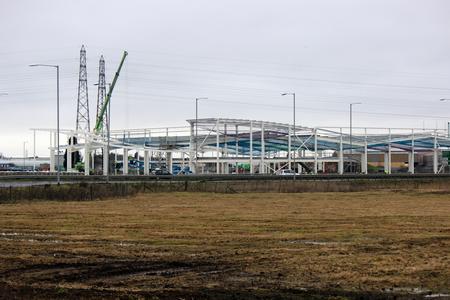 by Emma Grove
Another 150 jobs could be created in Queenborough after the developer behind a £30m regeneration project put in a revised planning application.
Work on the new Morrisons' supermarket is well under way at Neats Court, with the company hoping to be on site and fitting the store out by May.
Now, developer LXB Retail Properties has put in new plans for phase two of the scheme, which is the other retail units side of the project.
The extra buildings at the site, off Thomsett Way, could be targeted by food outlets, such as Pizza Hut.
Giles Haywood, of LXB, said: "We have got some real demand which we have spent a year trying to get.
"Now we need the consent to allow us to deliver it.

"We think the revised scheme has the same or even less impact on the town centre because the retailers we are talking to wouldn't come to Sheerness high street."
The leader of Swale council says the development heralds a new era for Sheppey to become a destination to visit.
Cllr Andrew Bowles said he is pleased to hear any news which creates jobs in the borough, although he could not comment on the planning application as it is yet to be decided.
He believes the regeneration is a 'once in several generations' development.
"Neats Court will totally transform [the Island] and I genuinely believe Sheppey is going to be one of the 'go to' places of the future," he added.
Developer LXB Retail Properties says talks have progressed to a legal stage
"neats court will totally transform the island and i genuinely believe sheppey is going to be one of the 'go to' places of the future…" – cllr andrew bowles
with home furnishings store B & M Stores and discussions are on-going with footwear retailer Brantano, Pets at Home and Poundland to take up some of the units.
There will also be a petrol station and KFC drive-through.
An application was put into Swale council last Monday to increase the additional retail space from the already approved 40,000 sq ft to 67,500 sq ft which could create another 150 retail jobs on top of the existing 300.
Recruitment for management positions at Morrisons, which will be 30,000 sq ft – compared to Sittingbourne's new 37,000 sq ft store, is due to start this month with other roles being released in May.
It is still hoped a family pub will be part of the Queenborough development and there is interest from operators. But it is the retail units which are being treated as a priority.
Mr Haywood added: "Morrisons is helping the discussions with retailers as we need them to be convinced that it is happening and then it's a knock- on effect."
It is hoped the phase two plans will be decided in April and, if approved, work will start in July.
Mr Haywood said that they had lost about a week to 10 days due to the snow and rain at the beginning of the year , but was confident they should be able to catch up.