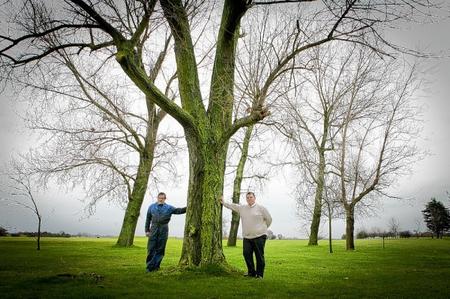 Trees on a golf course that are nearly a century old are to be cut down after an inspection revealed they were rotten.
Five poplars separating the 18th green from the putting practice area at Sheerness Golf Club, off Power Station Road, and one to the back of the 16th green will be removed on Monday.
The decision was made after one fell in strong winds at the end of September, which prompted a report on the condition of the remaining ones.
First planted around 1920, the trees have a life span of around 90-100 years. They have offered a point for players on the 18th hole to aim at and have been used for photographs at trophy presentations and functions.
Manager Alex Tindall said: "It will be sad to see them go but it is just one of those things. They have a life span and it is coming to the end of it."
Assistant head green keeper, Richard Thaxter, who has worked at the club for 26 years, has planted around 2,500 trees since 2001, including more than 2,000 trees in January 2007.
Since then only around 100 were lost due to the open, marshy conditions. The Forestry Commission suggest that a realistic loss should be around 50%.