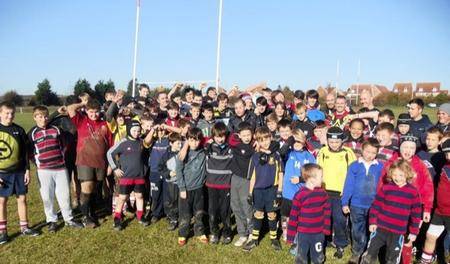 A rugby coach is adjusting to life at home after three months spent in hospitals following an explosion in his face at work.
Andrew Foster went back to wife Donna and children Kirstie, seven, and Keenan, 13, in New Road, Minster, on Thursday and it is hoped he can stay for good.
In August, an oil canister exploded while at his job at Highway Care Ltd, Detling, breaking every bone in his face and leaving him with a bleed on the brain and severe damage to his eyes.
The 36-year-old had been fully discharged last week only to have to be readmitted to the Kent and Canterbury Hospital, Canterbury, with an eye infection.
Donna, 34, said: "He is settling in really well, he is pleased to be home. He gets a bit anxious when he tries but can't do things.
"We took him to Tesco's because he wanted to get out. The kids are really happy to have him home.
"Kirstie keeps following her dad around everywhere making sure he's all right."
Sheppey Rugby Club, where Andrew is a youth coach, came together over the weekend to raise funds for therapies he will need through a sponsored run.
Nearly £400 was raised with more to come in next weekend.
Club chairman Neil Golding said: " It was fantastic to see Andy and his family and I'm sure coming back to the club for the first time since his accident was not easy for him.
"He is an inspiration to us all, such is his bravery."