by Emma Grove
A heartbroken couple have made an emotional plea for the return of a stolen hand-crafted model collection used to raise money for charity.
For almost 20 years, Leonard Aylwin has been working on his miniature village, which he tours around the Isle of Sheppey in support of various good causes.
The models, including a farmyard and circus, were stored in a shed at the 84-year-old's allotment in Medway Road, Sheerness.
Mr Aylwin had not been there for a few weeks because of a bad back, but when he arrived on Sunday he discovered the bottom of the shed door had been smashed in and three boxes of his hard work had been stolen.
Other parts of his beloved collection were strewn around on the floor inside and outside the shed.
The stolen boxes contained a steamroller, trapeze, horse-drawn tar-boiler, wagon and a caravan made from match-sticks.
Mr Aylwin, of Estuary Road, Sheerness, said: "They are mindless scumbags.
"It's sentimental to us and we want it back."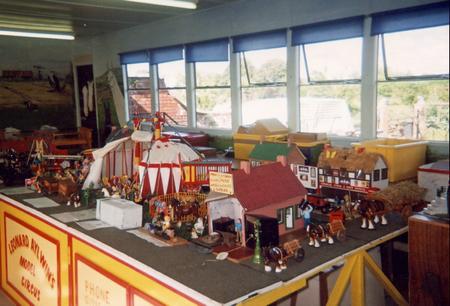 Mr Aylwin started the collection after he and his wife Josephine retired from running a family circus and moved to the Island from Essex when he was 65.
Over the years the couple, who have more than 30 grandchildren and great grandchildren, has raised hundreds of pounds for charities including The Freedom Centre, Demelza Hospice Care for Children and Help for Heroes.
They raised funds by exhibiting the collection at various fun days and popular events such as the Flowers in a Country Church Festival at Harty.
Mr Aylwin said: "It's taken years and now it's all gone. Some of it had just been chucked outside.
"If anybody knows anything about it, please get in touch with the police."
Mrs Aylwin, 70, said: "How can anyone be so horrible? Why did they take it? What value is it to them?
"The kids love it when we go round – our grandchildren love it and they have been really upset.
"They used to say 'you'll never get rid of your circus will you granddad?'
"It means a lot to us and it hurts when you know you have done all this good work."