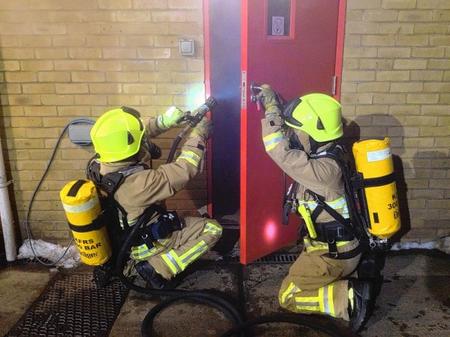 Sheppey fire station begins its recruitment drive for on-call firefighters on February 5. Our reporter Lewis Dyson discovered what it takes to become a retained crew member.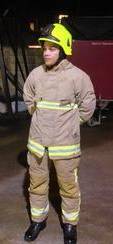 With a burst of air, the breathing apparatus comes to life and suddenly I sound like Darth Vader.
I am about to enter the boat bay at Sheppey fire station but for the purposes of this training drill it is a garage on fire and somewhere inside is a casualty.
Before this point, I have been fully suited and booted. Overalls are laid out so they can be thrown on as quickly as possible.
Speed is key. An on-call firefighter is expected to be out of the station's doors within five minutes of their pagers sounding.
That means dropping everything.
Crew members have plenty of stories about times when someone has turned up with half a haircut, or had to leave in the middle of their children's school plays, had to jump out of the shower or leave their shopping in the middle of the supermarket.
They have three-and-a-half minutes to get to the station and just 90 seconds more to get ready and on road.
A canister, holding 30 to 45 minutes of oxygen, is slung over my back with all the bells and whistles attached.
A motion sensor starts beeping every 20 to 30 seconds if it does not move. This helps if someone is suddenly knocked unconscious or cannot be seen in the dark.
As we enter the boat bay, I am tethered to the two on-calls in front of me.
A smoke machine has reduced visibility to virtually zero, I could not see my own hand in front of my face even by the light of my helmet.
Fireman Ron Selfe later tells me that in real situations, it gets even worse as black smoke can cover the face mask and often the only light source is the fire itself.
Full-time crew member Steve Smart shows me the thermal imaging camera – a handheld screen rolled out in the last few years that picks up heat sources and allows you to see in the dark.
We stick to the right wall and the guys in front of me methodically search the room corner by corner, watching their footing as they go.
After checking the floor and a stairwell, a dummy casualty is found under a car and we carry it carefully outside.
Job well done.
Get involved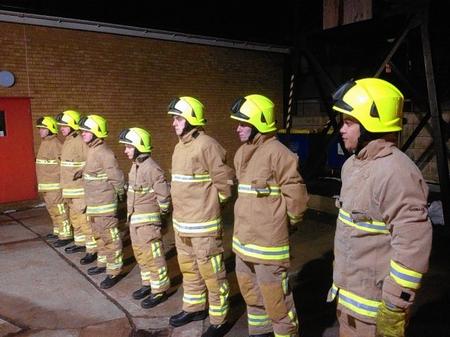 Anyone interested in becoming an on-call for Sheppey must live within a one-mile radius of the station in Sheerness High Street.
The station is looking for four new recruits to add to the six part-time and two trainees so it can provide 24/7 coverage for the Island.
Watch manager Tony Fox said: "You need to have a good sense of humour. You want people who are level-headed, able to work as a team, willing to learn, have discipline in the job and commitment. They need to want to be a firefighter."
He added that entrants can learn transferable skills like advanced first aid, wearing breathing apparatus and how to drive a large vehicle.
Applicants need to be fit and have a good level of English.
They also need to be available for 60 hours a week, on a four-week rota, including one in four weekends.
People can work elsewhere while on-call, so long as they can leave at the drop of a hat.
Annual pay works out at £5,850 while hourly wages can be added on top once a certain number of hours a week is reached.
Taking part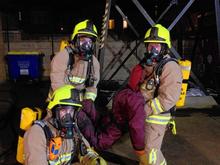 Bathroom fitter Daniel Bryant, of Power Station Road, is learning to become an on-call firefighter.
The 23-year-old passed a two-day intensive course followed by seven hours of study at home on a computer, 18 hours of guided learning at the station and a foundation course which lasts a further 10 days.
He said: "A member of the family is very passionate about it and I would like to have that sort of passion about a job. It is helping out in the community. I think it will be quite fun sometimes, hopefully. With a lot of hard work I could be full-time sometime which is what I aim to be."
It takes two years to become fully competent at which time on-calls earn a yellow diamond on their helmets.
Richard Hemmi, one of two crew managers in charge of the on-calls, joined 14 years ago.
He said: "You never know what you are going to get. It might be an AFA [automatic fire alarm] or it might be a collision.
"You have got to get yourself in the right frame of mind when that alert goes off."
Canterbury College Swale Campus learning support practitioner Tania Rea joined three years ago.
The 43-year-old, of Rose Street, Sheerness, said: "I used to do public service and we had a go at work one day and really enjoyed it."
The mother of three is able to fit childcare around her duties and said being the only female firefighter at the station makes no difference.