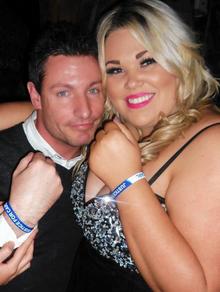 Celebrities are backing a campaign for murder victim Carl Davies.
Mick Norcross, from the ITV2 show The Only Way Is Essex (TOWIE), former EastEnders' actor Dean Gaffney and Peter Andre's brother Michael were snapped wearing Justice for Carl Davies wristbands on Friday.
The stars were presented with them by Carl's cousin Hayley McGuinness during a night out with friends at the Sugar Hut nightclub in Brentwood, Essex.
The hairdresser explained to them how the 33-year-old former Isle of Sheppey Academy teacher, was murdered on the French-administered island of Reunion in November, last year.
The family launched the Justice for Carl Davies campaign for a legal team to help them with a prosecution on Reunion when Carl's killer is arrested.
Hayley, 21, from Minster, said: "Mick Norcross said he already knew about the campaign and he'd sent some VIP tickets for entry to his club to be auctioned off at a fundraiser.
"Michael Andre told me to keep doing what we're doing and started shouting out 'Justice for Carl Davies' and waving his arm with the band on in the air.
"He's now following me on Twitter and DMd [direct messaged] me to say 'it's a pleasure to wear the band'.
"Dean Gaffney was short and sweet. He put it on and posed for the picture. Carl's sister Kerrie said he used to like him, I think it's because he made him laugh.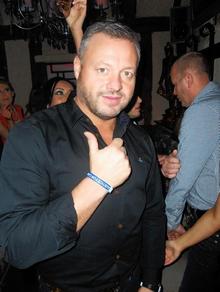 "I was so excited it put me on a high for the rest of the night.
"Joey Essex from TOWIE is going to Tantra, Sheerness, on December 8, I'm going to see if I can get him to wear one.
"I'm also off to Winter Wonderland at Hyde Park, London, on Saturday so I'm going to take some bands with me as there's usually famous faces there and see if they'll wear it too."
Carl's dad Andy said: "I'm pleased these celebrities have shown their support for the campaign. Perhaps we can send one to the Pope and get him on board too.
"I did send one to the Prime Minster David Cameron when I wrote to him a while back but I've not seen him wearing it."