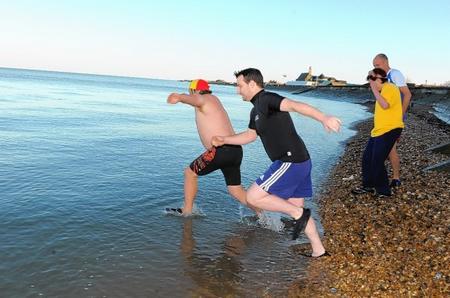 Six brave souls took to the sea for a swimming club's annual arctic dip.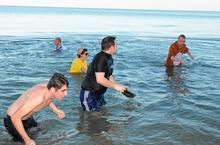 The Sheerness Swimming Club and Lifeguard Corps held the chilly challenge on Sunday afternoon.
Those running headlong into icy waters at Sheerness were Phil Crowder, Ricky March, Joseph Fantetti, Lee Dolan, Sophia Hayat Taha and Doug Kempster, who is a member of the Gravesham Life Saving Club.
The group was watched by enthusiastic family and friends while they posed for photos before running headlong into the icy waters.
Some soon emerged while other veterans stayed a while longer, and all those who took part said it was very cold.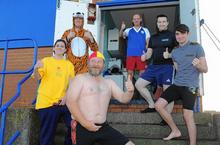 All those who joined in will be given a Millennium Arctic Club certificate and badge to mark the occasion.
Club chairman Phil Crowder said: "The dip was in bright sunshine and a very calm sea, but don't let that fool you into thinking that the water was anything other than freezing cold.
"Hot drinks were on hand to warm up the swimmers while they discussed the health benefits of cold water swimming and vowed to return next year to do it all over again."