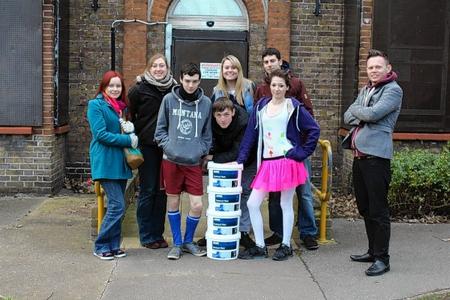 Swale council's former district office, which has been empty since 2011, is to be redecorated and used by young people.
Restoration Youth has been granted the use of the buildings, in Trinity Road, Sheerness, for a year with a view to this leading to three years and beyond.
Dan Pyke, of Unity Street, Sheerness, is overseeing the project along with two other youth workers.
They have a budget of £27,000 a year from Kent County Council for the next three years to provide youth services on the Island.
Mr Pyke, 32, said a lot of work needs to be done to bring the buildings up to standard in the next three months, including damp proofing and painting.
Frames of the upper windows have rot, plastering is needed and it is hoped an upstairs roomcan can have a laminate floor to become a dance hall.
A group of 14 young people from CXK, which was formerly Connexions, are spending two weeks decorating for their Prince's Trust award.
They have raised more than £725 which is hoped will cover the cost of four rooms and they are aiming to fix four more.
Church group The Noise on Sheppey will spend time over half-term decorating, while pupils from the Isle of Sheppey Academy will spend three weeks helping in March which will count towards their curriculum.
Restoration Youth is planning to generate extra funding by hiring it out to community groups.
Once completed, it is hoped the space can be used by 13 to 19-year-olds to use as an incubator for their business ideas.
Mr Pyke said: "Often places like Sheppey have a negative reputation that affects young people's attitudes, so we want to motivate them and through that they can achieve and do things."
Swale's cabinet member for regeneration, Cllr John Wright, said: "We have taken the decision to find a temporary use for the old council offices.
"It will be great to see the boards removed from the doors and window and some life injected back into the building. We wish them every success."