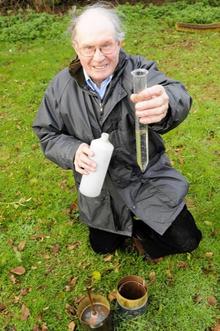 This year is on course to be the wettest since local records began almost two decades ago.
So far in 2012, around 689mm of rain has fallen – the average for a year is 520mm and there is still the whole of December to go, which often sees up to 50mm.
The wettest year the Island has had was 2000, when there was 725mm.
The figures have come from amateur meteorologist Ken Beal,corr who has been measuring rainfall on behalf of the Environment Agency from his home in Eastchurch since 1994.
This year's miserable weather is in contrast to 2011 – which was one of the driest Sheppey has seen as only 388.3mm of rain fell. November has been pretty wet so far, with 58.7mm recorded, and it has all come down over just 11 days.
The most rain came down on Sunday, November 4, which saw 18.2mm, and there was also a lot on Thursday (7.7mm), Sunday (10.2mm) and Monday26 (9mm).
November can vary – the dampest one we have had was 2002, when there was 88mm, and in 2000 there was 81.5mm, but in 2001 there was only 39mm.
Ken, 83, said: "The last week has been pretty horrible.
"Although 58mm isn't terrible for a month, it is considering we had 109mm and 76mm the two months before.
"It has been a very wet year and it could be the wettest I have ever recorded.
"I never thought it was because of global warming before, but I'm beginning to think something is different."
The recent bad weather has also been causing problems on the Island.
High winds caused the Sheppey Crossing to be shut for two hours at peak time on Wednesday last week.
Police requested the closure at 4.30pm due to severe wind and rain.